Setting aside time and money for home improvement is one way to earn a better profit when you put your home on the market. With so many options to choose from, how can you possibly know how to get the best return on investment when renovating or upgrading your home? Studies have shown that certain additions or projects have the highest potential to return a strong percentage of the initial upfront cost. Here are some great options to consider.
A minor bathroom remodel
Minor bathroom remodels are one of the top projects for homeowners who are looking to boost their ROI. This can be as easy as replacing your faucet heads or swapping out the old handles or knobs on your drawers for newer stainless-steel options. Use simple colors such as black and white to provide contrast and modernize the look of your bathroom. Bring in a potted plant or two to bring a more natural look and feel into the space. Natural light will complement these elements well, but even if you don't have a window or skylight in your bathroom, you can create a similar effect by painting the walls a lighter color.
Landscaping
Your home's landscaping is incredibly important because it directly impacts your curb appeal. First impressions matter when selling homes. If your buyer arrives at your home and immediately notices overgrown grass or unkept flower beds, they will wonder if the state of disarray in the yard reflects the condition of the home's interior as well. Make sure your yard is well-maintained as you're preparing for pictures, showings, or an open house. You may need to get out and trim tree branches that are overgrown or bushes that don't look even. Consider power washing your driveway and sidewalk to get rid of any stains. To take things one step further, improve the aesthetic appeal of your front entryway by repainting your door or adding a new light source.
A minor kitchen remodel
Your kitchen will be one of the first rooms that potential buyers want to see when they enter your home. Between hosting guests and preparing meals, people spend a large amount of time in their kitchens. In addition to making sure your kitchen is fully cleaned and decluttered, you can improve the appeal of your kitchen by performing minor renovations. Maybe you choose to paint your kitchen cabinets a brighter color so that they look brand new. Perhaps you invest in a better backsplash or countertops. Many buyers find success with adding new energy-efficient stainless steel appliances to replace outdated models. There are several approaches that you can take here, and each option will be helpful.
An attic bedroom conversion
Perhaps you don't want to spend the time, money, or energy necessary to add a full ADU to your home. You can accomplish many of the same goals by converting your attic into a bedroom. Not only will you increase your home's value by
anywhere from $30,000 to $50,000
, but you will also add usable space to your home that can be quite useful when hosting guests or looking for more room for everyone to spread out. Perhaps you even rent the attic bedroom out on a part-time or full-time basis to increase your ROI during the time that you live in the home.
A major bathroom remodel
Bathrooms are important spaces in every home, and renovating your bathroom on a major scale is one way that you can help your home stand out on the market. The temptation for some homeowners is to take on these tasks themselves. While DIY projects are becoming increasingly popular (and many homeowners enjoy doing them), you should exercise extreme caution when taking on any projects yourself. This is especially important when you're doing your own plumbing or electrical wiring. Not only does it take skill and expertise to do these tasks well, but they also must be done in accordance with all local and city ordinances. If your home isn't up to code, it can affect your home's resale value and your ability to get an insurance policy.
A major kitchen remodel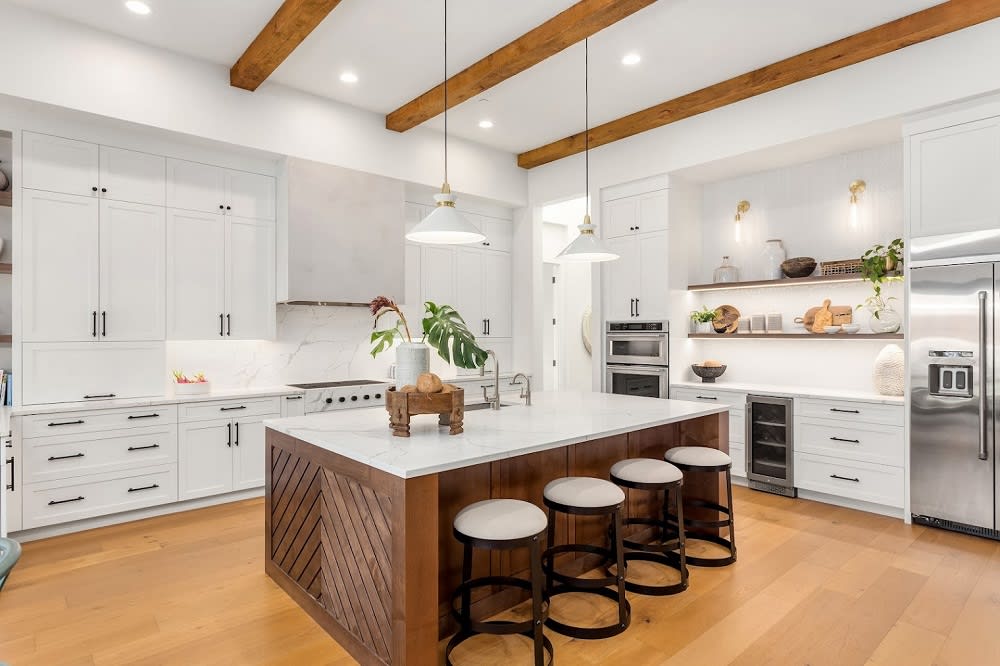 Think about how well your listing could stand out if you were able to include pictures of your newly renovated kitchen. A major kitchen remodel involves fully replacing your appliances, cabinets, backsplash, and countertops. You may even install new flooring or tear down walls to expand your space. This type of project can return an ROI of
as much as 80%
. This is also a major feature that you'll get to enjoy during the rest of the time when you live in the home yourself.
Other common projects
These are just a few of the projects that homeowners will take on in an attempt to raise their property value or help their home stand out on the market. The list could go on even longer. Maybe you choose to replace your entry door or add a storm door to your front or back door. Perhaps you build an outdoor deck or patio or improve your home's current outdoor gathering spaces. You may not have an attic to finish or convert into a bedroom, but you can do the same thing with your basement. Even replacing your windows could improve your home's curb appeal while better insulating your home and helping you save money on energy costs.
No matter what additions you make to your home, Susan Wisely and the
Choose Wisely Group
team can help you earn a better price when you list your homes for sale in McLean VA. Their team has extensive knowledge about the current state of the market and has spent years helping sellers successfully market, stage, and show their homes. Reach out to their office when you're looking for someone who can help you earn better profits on your McLean va real estate.